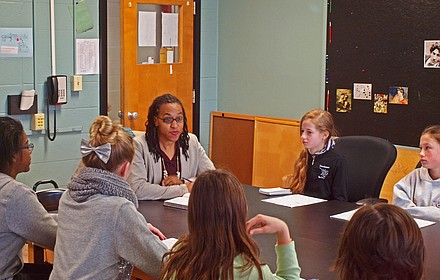 Brown School students taught real life lessons
Nestled within the suburbs of a city once known to light the way of the world, a primary school is leading kids down the path of philanthropy, and doing so with a hands-on approach.
January 29, 2015
The Latest
Babies
Toddlers and Preschoolers
Big Kids
Tweens and Teens
Columnists
Food&Recipes
Parent Pages stories

Local agency offers education resources for parents with special needs children
When Robyn Sanders began to notice that her son Dylan was having speech difficulties, she turned to her son's pediatrician.

Group hosts Hanaukkah Wonderland, inguaral parade of decorated cars
Since 2008, Bethlehem Chabad as hosted one of the largest Hanukkah events in the Capital District. The celebration has grown from a gathering to light the giant Menorah at Bethlehem's Four Corners to hosting Hanaukkah Wonderland held at Town Hall.

V'ville teen suicide victim's family hopes legislation will spare others from tragedy
Gov. Andrew Cuomo signed "Jerry's Law" last month, which ended the three-year crusade of Mary Clark to get a state law passed to help other families avoid the same tragedy her family faced.

Report: A dozen toxic toys sold in county, call for local legislation
The Albany County Legislature held a public hearing Tuesday, Nov. 25, on its proposed Toxic-Free Toys Act, which would allow the county health commissioner to inspect merchandise sold in stores and issue fines for toys found to have dangerous levels of, or banned, chemicals.
Guilderland Garden Club to hold annual Greens Show at Mynderse-Fredrick House
The annual Open House and Greens Show at the historic Mynderse-Fredrick House, located at 451 Main St. in Guilderland Center, will kick off on Friday, Dec. 5, from 4 to 8 p.m. The show continues through the weekend and is open from 1 to 5 p.m. on Dec. 6 and 7.

The Trains and Toys exhibit at miSci has become a tradition for many families
In a world where 8-year-olds beg for the latest cellphone, the sight of a toy train set still holds a special kind of magic this time of year – especially in Schenectady.

Cultivate an attitude of thankfulness in children by making it an everyday habit
Gratitude and Thanksgiving tend to go hand-in-hand. But when the day is said and done, many may ask themselves why they don't do this kind of thing more often — not just on Thanksgiving.

Lisha Kill eighth-grader Jacob Haley wins anti-bullying competition
When Lisha Kill eighth-grader Jacob Haley decided to take a stand against bullying after years of enduring it at school, his voice was head throughout the Capital District.

Toy Truck Mobile Museum stops in Slingerlands, showcases its 50-year history
Fascination over Hess' toy trucks seemed to hold an ageless appeal at a recent and rare showing of the entire collection.

When Joyce Thomas retired from her position as kindergarten teacher at the Ichabod Crane School District, she and husband, Jack, had some plans, but as the saying goes, life happens while we are making plans.

There is this assumption that mothers just instinctively know how to soothe crying babies and can meet their baby's needs in ways fathers just cannot.