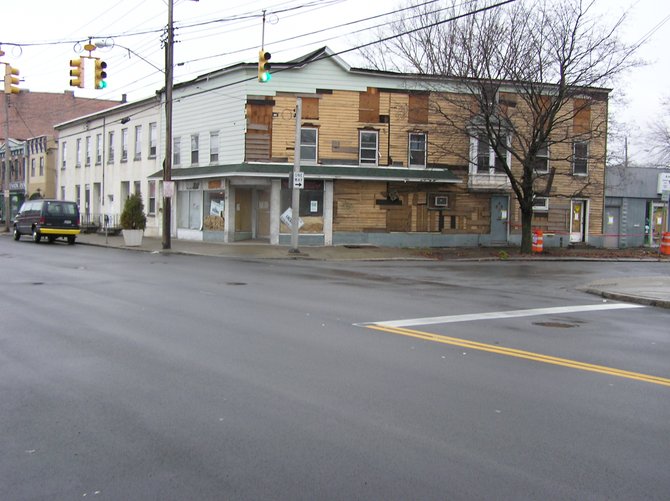 SCHENECTADY — Upscale apartment units will soon transform a vacant building in downtown Schenectady.
Schenectady Metroplex Development Authority announced on Tuesday, Dec. 13, construction work is starting this month on a new $3.1 million residential development in downtown Schenectady.
The project is being developed at the corner of Union and Barrett streets and will replace a vacant, boarded-up building and vacant lot with eight new townhome apartments. Each unit is planned to have approximately 1,350 square feet of space and its own garage.
"As downtown develops, we are seeing more interest in renovating and building upscale residential units," Ray Gillen, Metroplex chairman and commissioner of economic development and planning for Schenectady County, in a prepared statement.
Metroplex is providing a $150,000 grant toward the cost of site preparation and also providing a $200,000 loan toward construction costs at 5 percent interest.
Chris Maddalone and his partner, Charles Rosenstein, are developing the site. The first phase of development is over $1.5 million worth of work, with Kinderhook Bank providing financing. J. Luk Construction Company of Rotterdam was hired to build the new complex.
The developers recently built seven new homes in Schenectady, according to Metroplex officials. Also, they recently completed renovations to a nine-unit apartment building in Albany's Park South Neighborhood and a 12-unit building on Lafayette Street in Schenectady. Maddalone owns a company that builds, renovates and manages residential and commercial real estate in the Capital Region. Rosenstein is an attorney based in Albany.
Maddalone expressed pleasure at being able to reinvigorate downtown Schenectady.
"Having lived in Schenectady all of my life, I am very excited to play a role in the City's renaissance," he said in a statement. "We've been very pleased with the feedback from the community about this project and have already begun receiving inquiries about a waiting list."
(Continued on Next Page)
Prev Next
Vote on this Story by clicking on the Icon