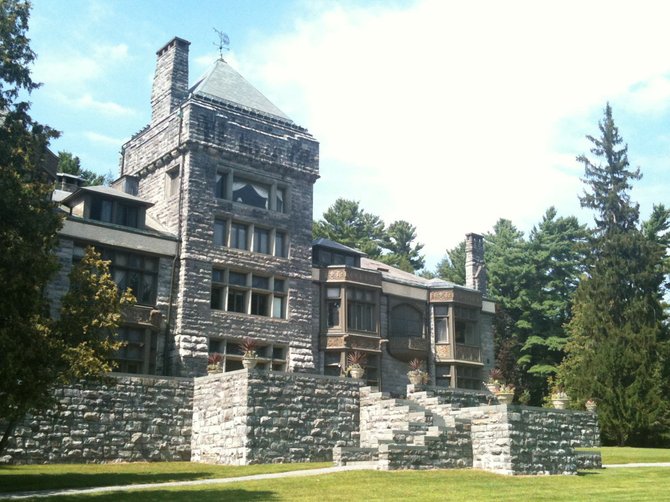 continued — "It's a music room now but it served as a library when the Trasks were here," said Leduc. "There's a balcony because they produced house pageants around the holidays."
Between 50 and 60 composers make use of the music room each year.
Other tour groups will be ushered right upstairs. They'll walk past the Tiffany grandfather clock at the base of the stairs, now silent to spare artists the passage of time. They'll climb the carpeted stairs toward the second largest stained glass window and past walls of murals.
There are 55 bedrooms (and an unknown number of bathrooms) scattered throughout the top floor. A common space attracts artists at night and a large screened porch has been the site of many game nights, Pilates and cocktail parties.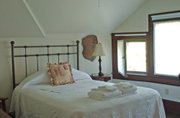 Some bedrooms are solely living quarters with separate artist studios elsewhere on the property. Other rooms serve as living and working space, like Katrina's bedroom, a coveted place at Yaddo.
"Even though it's a lot of pink, guys like it too," said Leduc.
A bottled glass door reveals a room that is blindingly white, from the furniture to the walls. Roses were Katrina's symbol, so stained glass panels of the flower of romance line the top of the walls. A door leading to a porch is etched with a poem by Katrina that Princess Diana's sister read at her funeral.
Up a steep staircase to the third floor is Katrina's tower room where she did her writing. Though it's not included on the tour (it's stuffy, hot and is a workout to get there), its most striking feature is undoubtedly the expansive picture window, lined with another etched poem ("Look out and see the glory of mountain plain and sky, look in and see the light of love that nevermore shall die") and looking out to what's now a forest of trees but was once the mountains of Vermont.
Vote on this Story by clicking on the Icon