ROTTERDAM — Schalmont students were encouraged to be a fellow student's hero through a unique anti-bullying presentation aimed to stop kids from just be a bystander.
Thomas Murphy from Sweethearts and Heroes, a non-profit organization aimed at stopping bullying, gave three presentations to the Schalmont community on Thursday, March 22. Each presentation was tailored to its audience, with one for fifth to eighth grade students and another for high school students. Also, a presentation was done for parents to show what their children had learned and how parents can help encourage their children to stop bullies.
Murphy co-founded the organization in 2010 with fellow mixed marital arts competitor Jason Spector and both are New York natives. Murphy is a professional MMA fighter and also competed in Spike TV's second season of "The Ultimate Fighter."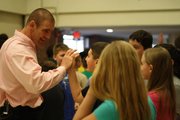 Murphy's push is for non-violent solutions to bullying problems. One of the tools he presented students with was the "A,B,C's," which stands for away, buddy and confront.
Moving away allows students to not give attention to the bully, or to remove the victim from the situation by distracting the bully from his efforts. Being a student's buddy has students reaching out to another person, such as inviting them to sit at their table for lunch. Also, confront the situation doesn't mean getting into a confrontation with the bully, but informing a teacher or adult of the situation.
Schalmont High School Associate Principal Jacqueline Gordon said the "A,B,C" approach gave students a safe way to approach a bullying situation. She said she's heard a lot of positive feedback on the presentation.
"I thought he had a real practical message for the kids in ways they can try to intervene instead of just being a bystander," Gordon said. "He also acknowledged how hard it is to do that and to go against what the crowd is doing."
(Continued on Next Page)
Prev Next
Vote on this Story by clicking on the Icon