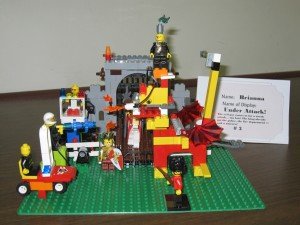 "The scenes they create are very imaginative," she said.
Debbie Sternklar, youth services librarian for the Guilderland Public Library said their club works similarly.
"I also try to get them to write a bit," she said. "I ask them to name their creation and write a short description telling about its features."
Sometimes members are given special assignments to complete at home that are then put on display for other club members to see. Sternklar said because this year was the year of the dragon under Chinese New Year traditions, the children were asked to build a dragon and bring it in to show.
The two women said the clubs have lead to some children getting interested in reading. Both libraries have invested in Lego books like the Bionicle series, based off of a Lego toy line. There are also Lego easy-reader books available and books about how to build better Lego creations on a professional scale.
The Guilderland library also has a Wii console for children to play Lego video games while they wait their turn to build.
"It brings a different group of kids to the library to get involved," said Sternklar. "Its kids who aren't just book worms, but are more active."
And sometimes, special speakers are asked to visit.
Sternklar said William Leue, a retired GE software engineer who now makes Albany landscapes out of Lego, visited the Guilderland club last year.
"The children loved it," she said. "He explained to them all of the things you have to think about when recreating buildings or landmarks on a professional level."
Brenner said it is still unknown when or how many times the Bethlehem club will meet. It will depend on interest and how much they get in donations to start the club.
The library is currently seeking donations of gently used Lego pieces to get the club started because the toys and the themed kits are expensive. More details will be available closer to summer break.
The Guilderland and Colonie libraries are also seeking Lego donations to keep their clubs in stock. Both Sternklar and Cicchinelli said the club is easy to maintain after the initial investment of Lego pieces and storage bins, but pieces can easily be lost and replenishments are needed.
"Such a simple idea really does have a positive effect on the development of these kids," said Sternklar.
Meeting times differ for each club. To lean more, visit their websites at www.guilpl.org or www.colonie.org/library.

Vote on this Story by clicking on the Icon