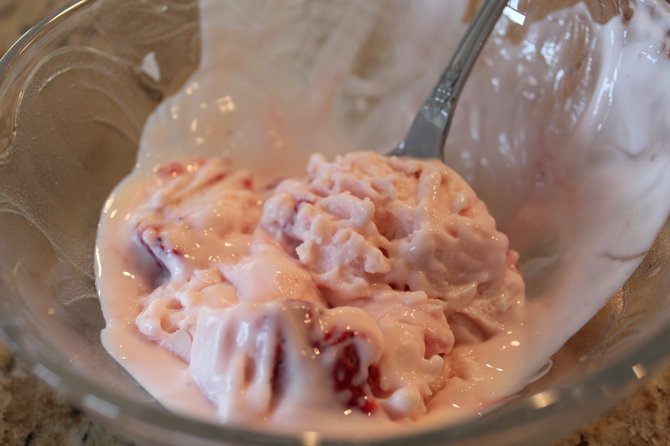 I have been traveling throughout the community testing my own arm strength and the cooking muscles of the kids who have joined me for a little summer fun.  Together we've been mixing it up and shaking it up to make a strawberry-banana frozen yogurt.
This is such a fun cooking activity. In fact, it's a blend of science, learning through a hands-on activity and a cold afternoon treat all mixed into one great time.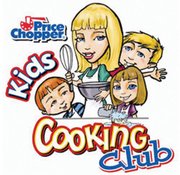 Strawberry-Banana Frozen Fun 
2 strawberries
1/2 banana
2 tablespoons vanilla coconut milk
1/2 cup low-fat vanilla yogurt
1 sandwich-size snap and seal plastic bag
1 quart-size snap and seal freezer bag
2 tablespoons salt
2 cups ice
2 paper towels or oven mitts
Directions
Rinse and hull the strawberries.

Peel the banana.

 Cut the strawberries and bananas into small pieces. Little hands can cut up these soft fruits with a plastic knife and be independent in the process. When my children were young I would cut the fruit in half and place it flat side down on to a plate before they began the cutting process.

 Measure the low fat yogurt and put it into the sandwich-sized plastic bag.

 Add the coconut milk and fruit. Seal bag.

 Let the kids squish the fruit and mix all of the ingredients together on the outside of the bag until it turns a light pink.

 Place 2 cups of ice into the quart-sized bag along with the salt.

Place the sealed lunch-sized bag into the quart-sized bag.

Seal the quart size bag and hold onto the two top corners with a paper towel or oven mitts and vigorously shake for about 3-5 minutes. The bags will get very cold, which is why you need something to hold onto them.
Note: The shaking process determines the outcome.  A good shaker will turn the entire bag into an ice-cream state that fully peels away from the edges of the bag into a frozen ball state; a light shaker will only produce a cold soft yogurt. It's all on the muscle power, and some young children will need a little shaking assistance.
You can join Jodie monthly and get more recipes through the online Price Chopper Kids Cooking Club that is free and can be found at www.pricechopper.com under the program sign up section of the site.  Jodie also visits local communities with Price Chopper for fun programs and events.  To learn more about her, visit www.jodiefitz.com.
Vote on this Story by clicking on the Icon
More like this story