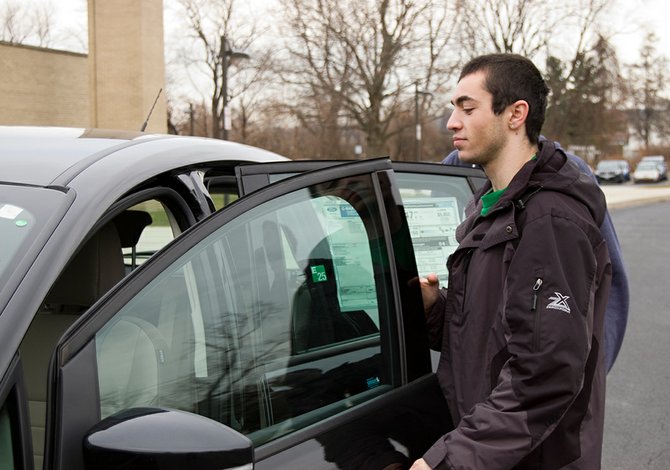 SCOTIA — Students at Scotia-Glenville High School found hands-on learning meant putting their hands on the steering wheels of some of the latest, most advanced rides on the market.
Scotia-Glenville students in Rick Warren's 12th-grade English class went from researching alternative fuel motor vehicles to seeing four models up close on Friday, Dec. 7. The chilly morning air was no match for the excitement of students hopping from the cabin of one car to another. Students took turns driving the different vehicles as employees from local dealerships gave a breakdown of the features and sat as co-pilot for the ride.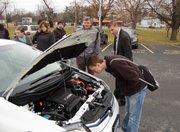 "The class is truly about how to research," Warren said. "At first they actually researched larger vehicles … and we moved on to passenger cars."
After PowerPoint presentations and papers, students took to the vehicles themselves, which included a Chevrolet Volt, Mitsubishi i-MiEV, Honda Civic Hybrid and Ford C-Max Hybrid. Warren said capturing students' interest with the actual cars helps spur their desire to learn about alternative energy.
Although it is only a one semester course, or half-year class, Warren said he tries to pack in as much as possible.
"After we are done with this, we are going into lots of alternative energy research beyond vehicles," Warren said. "To me, this is where the economy is headed, and as seniors, this is where they are going to find work."
Connor Sullivan-Irwin, 17, drove the i-MiEV, provided by Goldstein Mitsubishi, which is an all-electric powered car. You won't find any exhaust pipes on the small ride, which gets up to about 110 miles per charge.
"It was awesome," Sullivan-Irwin said. "It was a really smooth ride."
The i-MiEV is smaller than most cars, but he said it was still spacious on the inside. Though he didn't get to open it up, the car can go from stopped to 80 miles per hour in 10 seconds, and do it much more quietly than gas-powered vehicles.
(Continued on Next Page)
Prev Next
Vote on this Story by clicking on the Icon