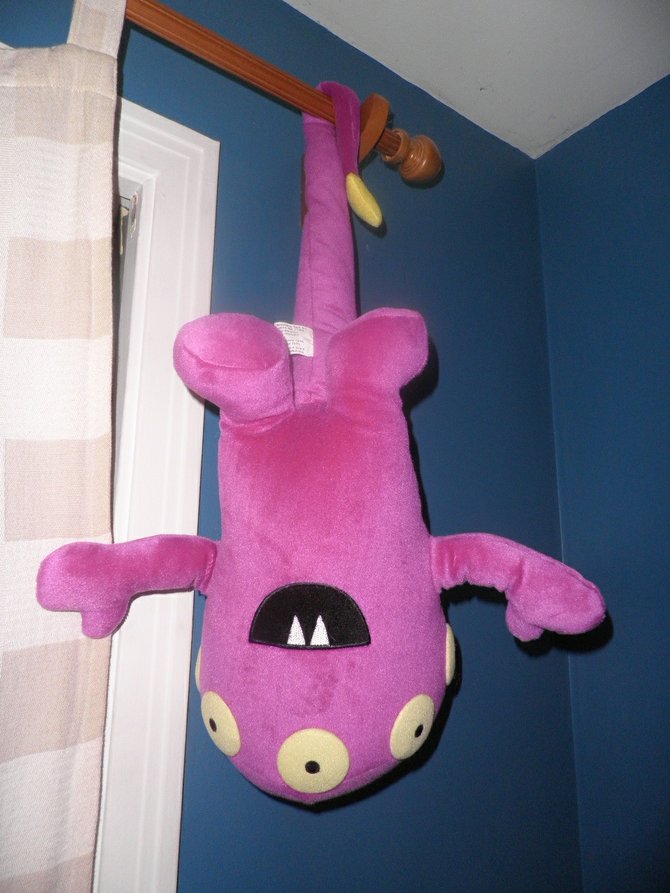 And Carl also offers a Scare-Me-Not to every child entering new homeless shelters in California through a program called Project Night Night. Perhaps most impressively, with the help of The Capital Team of RealtyUSA and 1st Priority Mortgage Company, he presents a Scare-Me-Not to every child placed in a foster home through the Northeast Parent and Child Society's Therapeutic Foster Family Program (TFFP).
When I met Carl, he decided to give again. We were out for coffee and a chat, and he'd brought two of his Scare-Me-Nots as gifts for me. Those of you who've read my column "Normal is a Dryer Setting" may remember that my 9-year-old son Jonah has autism with severe behavioral problems and is now in residential educational care. I told Carl that I'd like to give the Scare-Me-Nots to Jonah's school for their silent auction. He smiled and said that would be just fine.
I dropped the two Scare-Me-Nots off at Jonah's house and told a staff member they were donations for the auction. Next time I came to visit Jonah, the gala was over, but the Scare-Me-Nots were still there. In fact, one of Jonah's housemates was clutching one tightly as he rocked back and forth on the couch. "The kids loved them so much we couldn't take them away," explained one of the caregivers. When Carl heard that, he donated enough Scare-Me-Nots to the school so every incoming residential child in 2012 could have one for free.
There were a few extra Scare-Me-Nots left over, and I gave them to places I thought Carl would approve of: a local childhood cancer center, an autism classroom, and a rescue mission. I admit, though, I kept one for myself: Defender Dave, who has eyes all around his head so monsters can't sneak up on him. I hung him by his Velcro-ed tail from the curtain rod close to my bed.
I don't care if it sounds silly: I love my Scare-Me-Not.

Even grown-ups have monsters to fear, and Defender Dave helps keep mine at bay. More importantly, he restores my faith in humanity. Every time I see him, I'm proud that our own little corner of the world has such imaginative, generous people like his creator in it.

Amy Wink Krebs lives in Albany, NY, what she likes to call "our pretty little city." She loves discovering cool things for kids in the Capital District and then telling you about them. Please write to Amy at winklett@hotmail.com.
Vote on this Story by clicking on the Icon