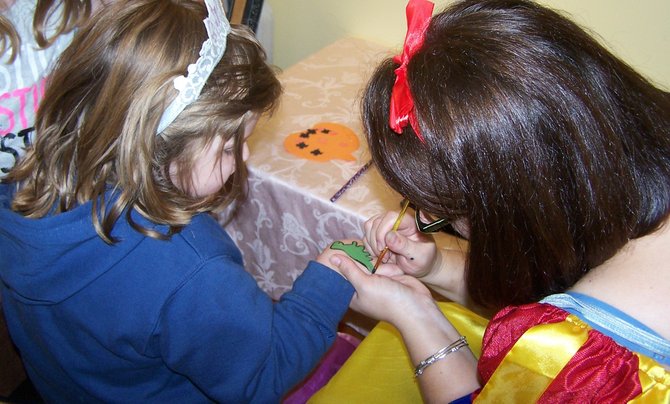 Sari Medick, owner of Tiny Tots Tea Room on Crescent Road in Clifton Park, had planned to hold a fundraiser for Maddie Musto earlier this month. That was before Maddie passed away from a rare and inoperable braintumor.
But Medick decided to continue on with the event, and reorganized it into a memorialfundraiser to be held Sunday, Feb. 26.
Medick is from Rotterdam, and it was through a friend of hers that she heard about Maddie's affliction. After news of Maddie's passing, she didn't hesitate to still offer her cafe at The Tiny Tots Tea Room for a memorial fundraiser.
"Our staff is donating all of their time for the event and we've had an amazing response by local companies who are giving items for the silentauction. Everything is family based. We even had one of our regular customers give tickets for a Yankees game," said Medick. "Our customers have also been wonderful in getting the word out about the event. At the café here we have flyers about it and people have been stopping in and grabbing fistfuls of them to distribute."
"We decided to have the event on a Sunday, a day when we're typically not open. We've got room for about 120 people between the front and back of the building," Medick continued.
She added that the event will be from 10:30 a.m. to 5:00 p.m. inorder to provide various times for people to attend. Lunch is the tea room's busiest time, and a full regular menu will be offered, excluding breakfast items. Peanut-free, gluten-free and dairy-free options will also be available.
In addition to food, there will be plenty of entertainment including face/hand painting, nail painting and balloon animals. There will be something for all ages to take part in. Silent auction items include a photo session from Lubas Photo Design and a week of camp at Tiny Tots Tea Room.
The Musto family had just been looking into chemotherapy and other treatments for Maddie's tumor, according to Medick. She said that the café has heard from several members of the Musto family from downstate who are expected to attend the Feb. 26 event.
For those who can't make the event, and would still like to donate to Miracle 4 Maddie, contributions can be made in Maddie Musto's name at Capital Communications Federal Credit Union. For details, visit http://miracle4maddie.bbnow.org/donate.php.
For more information on the event at The Tiny Tots Tea Room, visit tinytotstearoom.com.
Vote on this Story by clicking on the Icon