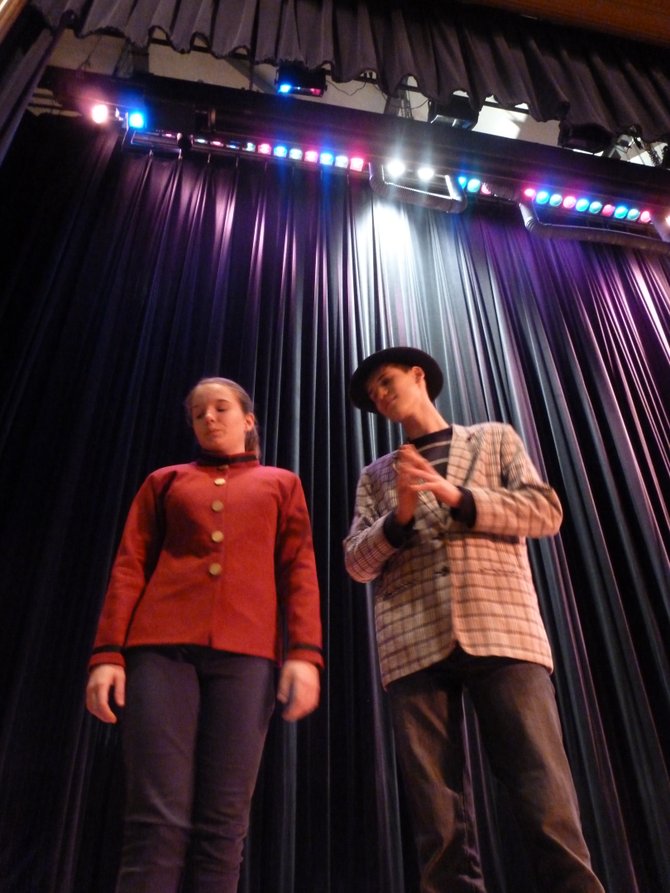 continued — The story takes place in bustling New York City, where the pious Sarah Brown is attempting to recruit sinners to her mission but is having trouble in a city filled with tumultuous nightlife. In the meantime, addicted gamblers like Nathan Detroit and his gang are in need of a place to hold their illegal dice games, and Brown's mission seems like just the right cover for their dealings.
Conway said while the production is a bit shorter than the usual play, the story is basically the same and still contains fan favorite songs like "Luck Be a Lady Tonight" and "Sit Down You're Rocking the Boat."
Eighth-grader Hannah Thien plays lead Sarah Brown. She said she likes portraying such an dynamic character.
"You think you know her, but by the middle of the shows she's a totally different person," she said.
Kreienberg said she can relate to her character because she's quirky and silly at times. "They cast us based on our personalities," she said. "You can see it afterwards. Sometimes I think they know us better than we know ourselves."
The girls said they found the show interesting when reading the script because it's set in the 1950s, long before they were born. They felt the story gave them a different historical point of view, but on the other hand the majority of jokes aren't modern, so sometimes the cast needed them to be explained.
Robert Willard, who plays lead Sky Masterson, said he liked the older references.
"It's nice to do a classic," he said, explaining that most people will already know the story but will be surprised by the middle school's version of the tale.
Pre-sale tickets are available to the public on Wednesday, Jan.18 from 5:45 p.m. to 7:15 p.m. and are also available at 5:30 p.m. on show nights in the middle school lobby. Tickets are $8 for adults and $5 for seniors and students. There are shows on Jan. 31 and Feb. 2, 3 and 4. All shows are at 7 p.m.
Approximately 2,200 tickets are sold for the four-night run each year, so those wishing to attend are recommended to get their tickets as soon as possible. The shows have been known to sell out.
"The shows flow with the arrangement of the songs makes it very fun for the audience and the students have been working very hard," said Daly. "So we encourage everyone to come."
Vote on this Story by clicking on the Icon
More like this story