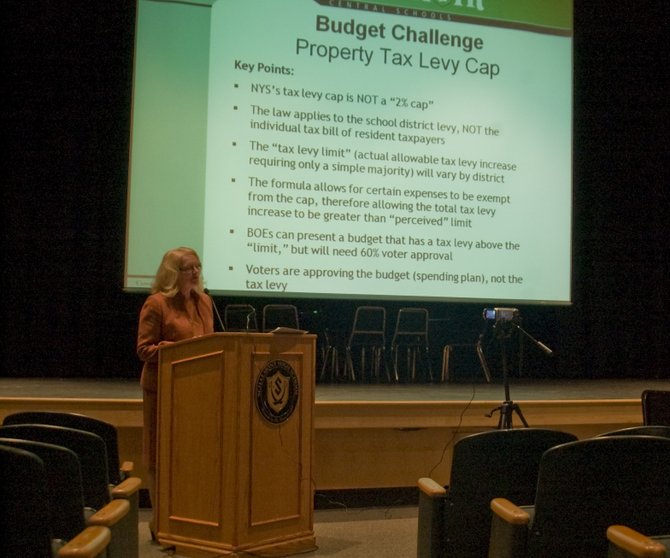 ROTTERDAM — After closing two elementary schools this school year, Schalmont officials are starting to evaluate what difficult decisions might be in store in 2012.
The Schalmont Central School District held its first budget forum on Tuesday, Jan. 17, at the high school's auditorium, with around 15 people attending. The forum focused on understanding how the state mandated property tax cap effects the district and identifying some of the challenges facing the district as it crafts the 2012-13 school budget.
Earlier the same day, Gov. Andrew Cuomo revealed his executive budget, which allowed the district to have insight into state aid for the upcoming year.
Despite claims from Cuomo of inefficiency within public education, Schalmont Superintendent Valerie Kelsey stood behind the district's fiscal responsibility.
"Public schools have been under great criticism. Our governor stood and spoke today … how schools are inefficient, how schools are not successful," Kelsey said. "I look at the sacrifices we have made over the last years. It has not been easy to close two neighborhood schools that were very much loved."
Kelsey said it is "very difficult" for her to continue to hear Cuomo lump public schools together and criticize them as a whole.
Cuomo's budget calls for an $850 million, or 4.1 percent, increase in state school aid. Kelsey said the majority of the increased aid won't reach Schalmont, though. If Schalmont did get a 4 percent increase in aid, the district would see an additional $240,000.
Under the property tax cap, Schalmont would be able to raise the tax levy 2.5 percent next year without needing an override. The current budget is $41.8 million and a "rollover" budget maintaining all programs and services would be $42.5 million, or an increase of $730,000.
The Schalmont Board of Education has met with Duanesburg's and Mohonasen's school boards on ways to achieve cost savings through shared services and partnerships.
(Continued on Next Page)
Prev Next
Vote on this Story by clicking on the Icon