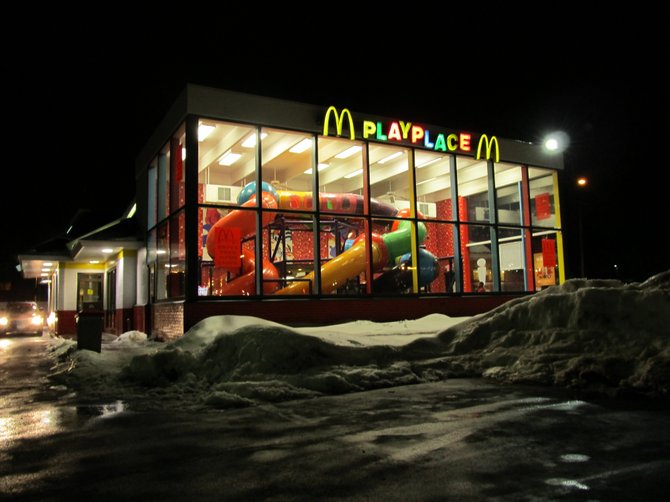 On a recent afternoon, after slick roads and piles of snow had kept us in the house for days, I took my 2-and-a-half-year-old daughter, Sarah, to the Playplace at the Halfmoon McDonald's to burn some energy.
It was surprisingly fun, entertaining her for an hour and a half with its tunnels, big slide and more.
It got me thinking: Maybe there were even bigger and better Playlands elsewhere in the Capital District. In the winter months, I'm always looking for fun and cheap things to do indoors, so a mission was born. Over the next few weeks, we hit every McDonald's in Albany, Schenectady and Saratoga counties that had a Playland.
This primer might help other parents looking for a good, active time despite the cold. In short, skip Schenectady County. You'll find a few fun places in Albany County, but for the very best Playlands, Saratoga County is the place to be.
Photo Gallery
McDonald's Playlands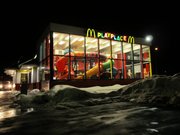 The best of the bunch
Ballston Spa McDonald's, 201 Church Ave.
Pros:
• Giant play structure featuring two slides; several small tunnels; a long, solid tunnel and a long, mesh tunnel; a couple of bumpouts where kids can look down and wave.
• A Nintendo station offering four video games that kids can play for free.
• Separate play area for smaller kids.
• Enclosed dining room with lots of tables for people with kids who want to play.
Cons:
• Because most of the play structure is solid plastic, I often couldn't see Sarah. That can be troublesome not only for peace of mind, but because it makes it hard to direct kids into other areas of the structure that they might enjoy.
• The area for smaller kids is separated from the main play structure by a glass wall, meaning it could be a little tough to juggle kids of various ages.
(Continued on Next Page)
Prev Next
Vote on this Story by clicking on the Icon
More like this story