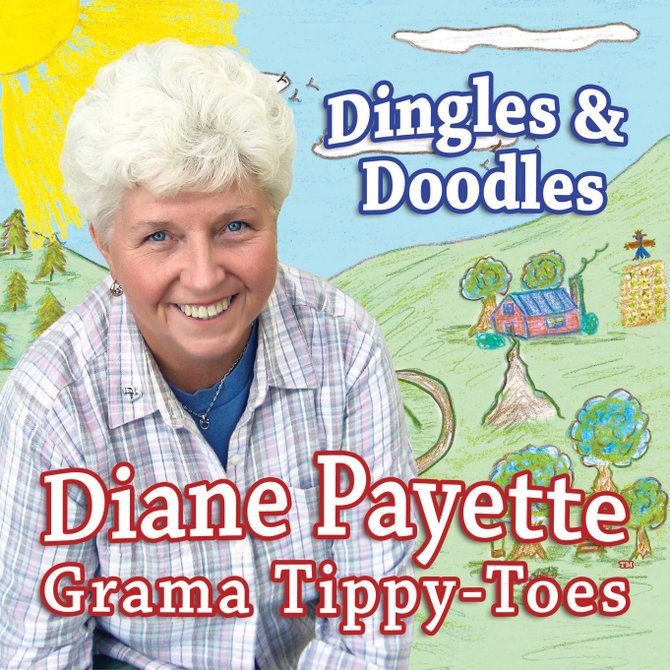 Diane Payette's nickname growing up was "Dingle" and her best friend Dale's was "Doodle." They used to sit on the swings and sing, sing, sing, so when Payette decided to make a CD of the children's songs she performs at her various programs, "Dingles and Doodles" became the name.
"I've always liked nicknames, and I decided to kind of honor her by calling it that," said Payette.
On the CD, Payette, who has been known throughout the region for her work in elementary schools, preschools and frequent programs at the Clifton Park-Halfmoon Library for about 20 years, goes by her "stage name," Grama Tippy-Toes. That too, has a backstory.
"When I was 4 and 5, my grandmother lived next door to a woman she called Grama Tippy-Toes, and that really stuck in my mind," said Payette. "I remember thinking to myself, when I get white hair I'm gonna call myself that, so I'm very fortunate to have grown up to have white hair."
The CD, which was released a little over a year ago, had been in the back of her mind for awhile.
"Over the years, there have been so many times when a mom or dad will say, 'We wish we could take your music with us,' but at that time, it never occurred to me that I should really take that seriously and make one [a CD]," said Payette. "I got to thinking about the fact that it would be so much fun for these children to have this CD and then see that person at the store or bike trail; kind of a friend of theirs making this."
The 17-track disk was recorded in a studio in Hudson. Payette said she decided to go all out and be as professional as possible, if she was going to do this at all.
(Continued on Next Page)
Prev Next
Vote on this Story by clicking on the Icon