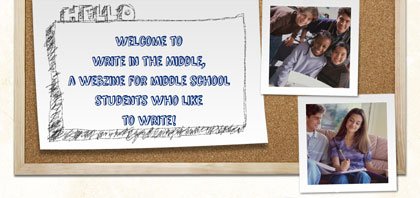 Burnt Hills — Heather Schwartz of Burnt Hills has been writing for nearly20 years. From reporting to books and magazines, she's written for a variety of publications, including National Geographic Kids, Guideposts for Teens and Girls' Life.
Through her years of writing, Schwartz has tapped into many resources to help her hone her craft. Now she's sharing some of those resources and pointers with middle school writers through her webzine, writeinthemiddle.com.
Schwartz, who also the author of many nonfiction books for children and teens, said the idea came to her when she got to thinking about all of the information she's gathered and the fact that her nephew, who is 13 and in middle school, also has a strong interest in writing.
"I thought that what I've learned could be useful to the kids," she said.
Schwartz calls her site a "webzine," an online magazine with the overall mission to mentor young writers with "questions, dreams and goals."
The site is interactive, providing kids the opportunity to pose questions and have open access to information and resources. Teens can write in response to a prompt provided on the site and find out about writing contests, assistance for re-writing and careers in writing, as well as a glossary. They can even post their own writing.

In April, Schwartz was the recipient of a $500 grant from pea Chic, an organization based in Lewis Center, Ohio, whose goal is to nurture women-owned businesses.

Schwartz said she hopes to be able to return the favor and sponsor another woman in the near future through pea Chic.

Having the webzine cater to middle school kids was important to Schwartz because she feels that it's a "magical age" where kids can gain confidence and "focus on their own interests." The site can also act as a supplement to school work and help reinforce those lessons.
(Continued on Next Page)
Prev Next
Vote on this Story by clicking on the Icon