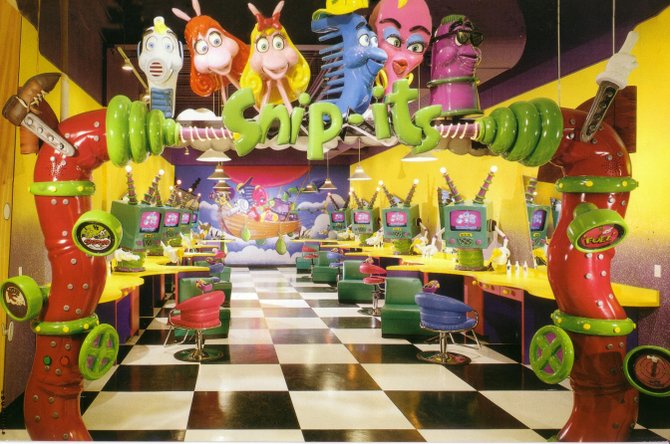 The chain has since expanded nationally to approximately 60 salons in 26 states. The Guilderland location will now be one of five in New York.
Today, Snip-Its has its own cast of friendly characters, games and stories, and the "Magic Box," a prize dispenser that gives each child a surprise in exchange for a lock of their hair at the end of the visit.

In the waiting area, children can enjoy the Snip-its show featuring its own cast of cartoon characters, and each cutting station includes an entertainment station with custom computer games and activities. A special chair for parents is also at each station so they can be close by.
For special occasions, the Guilderland Snip-Its provides four different themed birthday packages and child spa services, and the salon also has its own line of all natural hair care products for kids to take home.
Deitz called the experience "one of a kind."
"There's just something special about when a child walks into the salon for the first time," she said.
At a party, children get their hair done, have light makeup put on and can get dressed up in special costumes provided by the salon. At the "Hollywood Party," a child's picture is taken on the red carpet and at the "Rock Star Party," kids get to sing karaoke. There is also a "Spa Party" and a "Glamour Party."
New Snip-Its stylist Marie Napoli said she is excited to be a part of the salon and what the brand stands for.
"I had a child last year and being new to being a mom, it's nice to have a place to bring a child because they don't always do great in the environment of a crazy salon," she said, adding how thankful she was for the additional training to work with special needs children.
As part of its grand opening celebration, Guilderland Snip-Its donated 15 percent of its proceeds to the Down Syndrome Aim High Resource Center. The funds raised will help provide services, resources and activities for members, including fundraising events, collateral materials, education and staffing.
"We're excited to introduce such a unique concept to this community and to be able to give back to an organization that has given our family so much," said Deitz.
Vote on this Story by clicking on the Icon