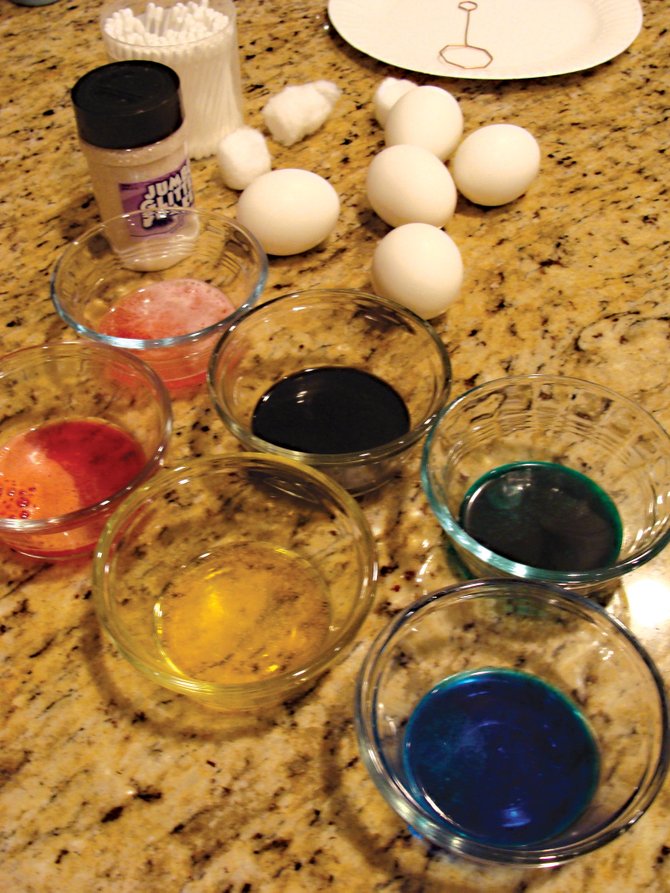 Supplies
• Paas color kit
• Vinegar
• Hard-boiled eggs
• Cotton balls
• Saran Wrap
• Q-Tips
• Glitter
• Paper plates
Easter egg decorating is always very exciting and often a bit chaotic. Our family starts by organizing supplies and working to use household items in achieving the most colorful designs.

In using the Paas kit, there are several options for prepping the color tablets. We decided to use vinegar, which is suggested for creating vibrant colors. Instead of using the suggested 3 tablespoons of vinegar per tablet, we reduced the vinegar to 2 tablespoons to help intensify the colors.
Although, the Paas kits come in a number of themes, with stickers and other accents that can be applied after-the-fact, we focused on creating the coolest dye effects with the color tablets that make up even the most basic of egg-dying kits.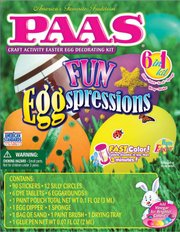 To begin, we used the paper plates as our work stations to help limit the excess mess (although they were helpful, there's always a mess with Easter egg decorating, but it was more contained).

We used the cotton balls as sponges and dipped them into the colors and then dotted them onto the eggs to give them a colorful sponged affect.


We used the Q-Tips as makeshift paintbrushes to add color to the eggs.

And, although we enjoyed experimenting with all of the household items we selected, our favorite was the use of Saran Wrap. We placed a piece on the counter and dripped some of the Paas colors onto it. We then set the egg in the center and pulled up the edges of Saran Wrap around the egg. You can either just let the colors set on for a few moments or, like my children, squish it around the egg to mix the colors.

We happened to have a little glitter in the house, so we rolled our damp eggs into the glitter for a little extra sparkle!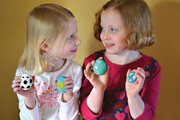 Vote on this Story by clicking on the Icon
More like this story