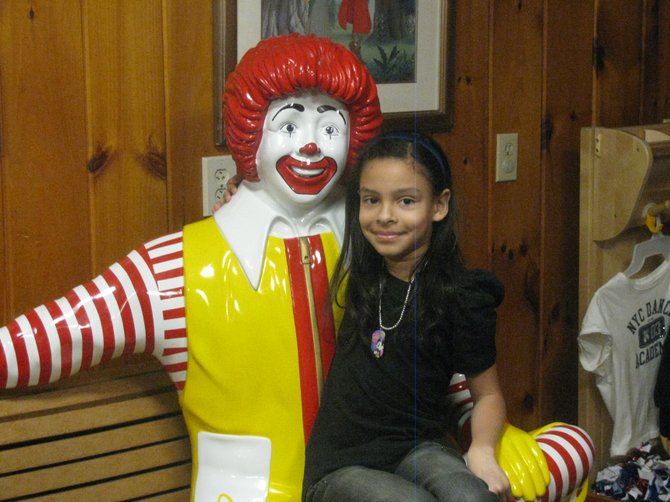 Ronald McDonald House Charities of the Capital Region has received numerous items off of its wish list over the past several months, thanks to a Rachel Furlong, an 8-year-old girl from Albany who has chosen to dedicate her time to helping kids in need.
Rachel, who attends elementary school in the South Colonie School District, decided this past fall to so something to benefit the Ronald McDonald House of Albany after learning about the organization from her mom after seeing a news report about a child with cancer.
Rachel has spent hours speaking to her friends, neighbors, classmates and teachers about the Ronald McDonald House and its needs. She presents the charity's wish list and asks for her family and friends to consider donating an item or two off of the list.
Rachel has made two trips to the House to drop off her collections, and recently had the opportunity to tour the facility with Ronald McDonald House Charities Executive Director Jeff Yule who expressed his appreciation for all that Rachel is doing in support of the organization's vital mission.
"We are fortunate to have friends like Rachel out in the community helping us," said Yule. "She is a remarkable young lady with a bright future."
Rachel said she wants everyone to know how rewarding it is to help the Ronald McDonald House.
"It is fun to help," she said. "I like bringing wish list items to the House and seeing all of the rooms. Everyone can do it."
Ronald McDonald House Charities of the Capital Region, Inc. provides comfort, support and respite for families of seriously ill children in a compassionate and home-like environment through the operation of the Ronald McDonald House and the Ronald McDonald House Family Room in the Children's Hospital at Albany Medical Center. In addition, Ronald McDonald House Charities operates The Ronald McDonald Care Mobile in partnership with St. Peter's Health Care Services and also awards grants to programs in the community that enhance the lives of children.
Vote on this Story by clicking on the Icon