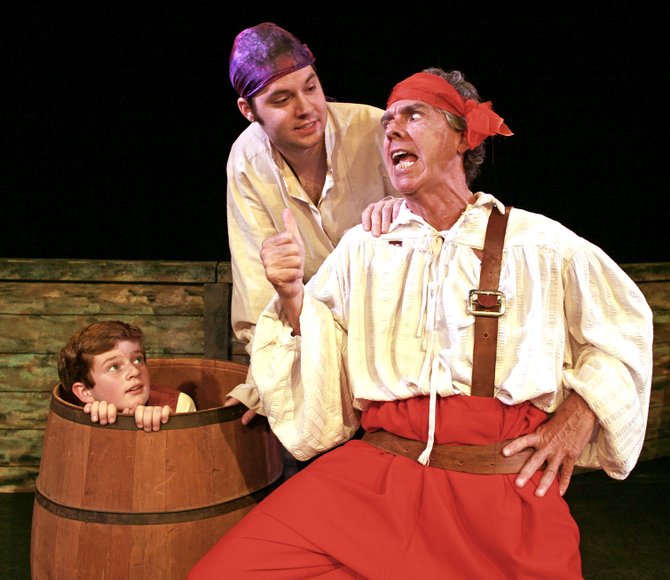 When Ric Chesser opened the doors at Steamer No. 10 Theatre in Albany more than 20 years ago, all of the theater's productions were made up entirely of professional adult actors — including the child roles.
Similar to the character of Peter Pan, the theater would typically use small women to play children in the shows. That all changed in 2011, when Chesser made the decision to cast young kids alongside the professionals – a choice that he says was one of the best decisions he made.
"The first child we worked with was a lady named Caroline Doolan who turned 10 in the middle of the run as Alice in 'Alice in Wonderland,'" he said. "The way the kids saw her was different. They really identified with her."
Chesser said the biggest difference is that adults view the fairy tale roles as "crazy or as if in a dream" while kids take on the role as if the character is real.
"It's a subtle difference, but it completely changes the show," Chesser said.
When Chesser began production for "Treasure Island" this year, he found just the right person to play the main role: a 14-year-old.
IF YOU GO: Treasure Island
Performances are Nov. 10, 11, 17, and 18 at 3 p.m., and on Monday, Nov. 12, at 10 a.m. and 1 p.m. at the Steamer No. 10 Theater, 500 Western Ave., Albany. Tickets are $13 advanced purchase and $15 at the door and can be purchased by phone at 438-5503 or at the box office. For more information visit www.steamer10thea... or call 438-5503.
Miles Keefe, a ninth-grader at Bethlehem Central High School who has been acting since third grade, was chosen to play Jim Hawkins, a young boy who outwits pirates on his journey in search of treasure.
"He was the one that came across as this kid," said Chesser. "He has a degree of innocence and the ability to smile as if he has outsmarted somebody, kind of like Macaulay Culkin."
(Continued on Next Page)
Prev Next
Vote on this Story by clicking on the Icon