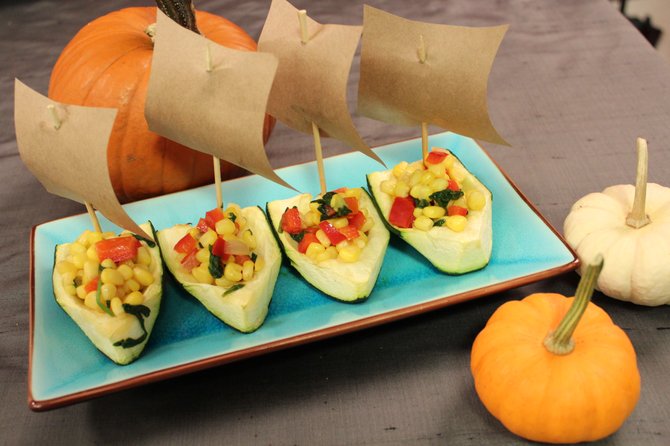 By now, Thanksgiving menu planning is in full swing, and there are so many ways that children of all ages can get involved.
One of the recipes that will be sailing out of our kitchen and onto the Thanksgiving table will be these Mayflower Veggie Boats. Our sails will likely be filled with Thanksgiving facts – it's one of my corny family traditions providing the perfect opportunity for my teenagers to practice their eye rolling techniques. However, my youngest enjoys helping out, and creating the sails will keep her busy when I'm doing tasks that she can't help with.
Here's wishing you a Thanksgiving that is both flavorful and fun.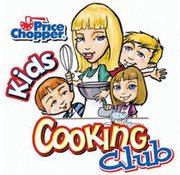 Veggie Boats
1 zucchini, medium
1 12-ounce bag of frozen corn
2 cups spinach, finely chopped
1 red bell pepper
2 tablespoons onions, finely chopped
4 tablespoons light olive oil
1 small clove of garlic
½ teaspoon salt
¼ teaspoon white pepper
Non-stick cooking spray
Pre-heat the oven to 375 degrees.
Pour two tablespoons of the light olive oil into a small glass bowl. Using a garlic press, crush the clove of garlic, add it to the oil and stir. Let it sit while you are preparing the zucchini. Remove the edges of the zucchini. Cut the zucchini in half lengthwise and then cut each long length in half to create four zucchini boats. Remove the seeds to create a hollow center in each zucchini boat. Baste the zucchinis with the oil and garlic mixture. Add a very light layer of sea salt and bake the boats for approximately 20 minutes.
Cook the corn as directed. Wash the red bell pepper, remove the seeds and dice it into small pieces. In the remaining two tablespoons of light olive oil, saute the red peppers and onion until they are soft, but slightly crisp. Add in the chopped spinach and stir until it has fully softened. Add the sautéed vegetables to the corn along with the salt and white pepper and stir until they are fully coated and the spices are evenly distributed. Fill the center of each zucchini and add the sails as directed below.
(Continued on Next Page)
Prev Next
Vote on this Story by clicking on the Icon
More like this story