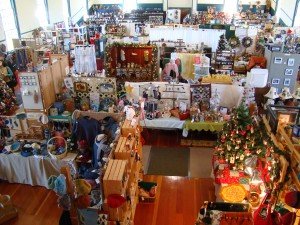 Lois Porter likes to give unique gifts for Christmas  – gifts she can't find in the chain stores.
A Colonie resident, Porter said for the last three years she has been shopping for holiday gifts at the Shaker Heritage Society's Christmas Craft Fair.
"I'm sick of the same stores and the same products everywhere," Porter said. "At the craft fair there are different things every year and some of the same things that I come back for."
The craft fair is something of a community holiday tradition that has been taking place for more than 20 years.
The Shaker Heritage Society, established 35 years ago with the goal of preserving the historic site of America's first Shaker settlement, decided 20 years ago that a craft fair would be a good way to generate revenue.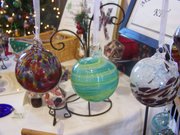 "It started very small with just a couple of tables of handmade things," said Executive Director Starlyn D'Angelo.
Things have changed since then. Today, the fair hosts more than 50 artisans and vendors who sell a variety of handmade items to approximately 6,000 shoppers each holiday season.
"We have everything from hand-knit sweaters to hand-blown glass ornaments. We carry photography and also have things like jams and jellies that are made locally," D'Angelo said.
D'Angelo said many of the vendors return year after year, and repeat shoppers look forward to seeing their favorite vendor each year.
Mary Beth Gardner, of Latham, has been selling her painted glassware at the fair for four years.
"I just have a soft spot in my heart for Shaker," said Gardner. "I really believe it's necessary to keep supporting the historic organizations we have."
Gardner said she also does a lot of her own holiday shopping at the fair.
"I love this one woman who does pottery – she does bowls but also little ornaments," she said. "I have sent them all over the country to people."
(Continued on Next Page)
Prev Next
Vote on this Story by clicking on the Icon