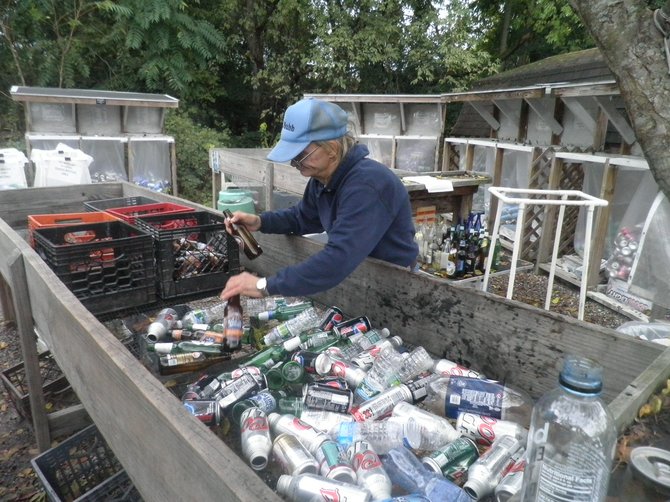 "We give our pets the time we can spare, space we can spare and love we can spare. And in return, pets give us their all. It's the best deal man has ever made."
– M. Acklam
Along the side of the Mohawk Hudson Humane Society (MHHS) in Menands there's a fence, and behind it is a large area for people to drop off donated bottles and cans. Different-sized bins and other containers stand ready for volunteers to unpack, clean and sort them. The money made from their returns goes directly to the shelter for its lost, abused and unwanted animals. This is where I met Paul, one of the volunteers for the shelter.

"I've been doing this for about a year and a half now," he told me, smiling as he sorted through green and brown bottles. "I retired, but it got boring. I like it here."

Paul has two dogs and four cats of his own, and all but one are strays. He's one of many volunteers working on the Empties for Animals program.

The Mohawk Hudson Humane Society (MHHS) is a nonprofit organization providing shelter since 1987 for lost, abused and unwanted animals. The animal care facility is the largest in the Capital Region, helping and housing more than 6,000 animals per year. Not only do they care for cats, dogs, rabbits and hamsters, but also snakes, birds, iguanas, fish, horses, livestock – and even llamas.
MHHS offers many programs like Empties for Animals. An important one is Save-a-Bull, since 60 percent of stray dogs received by the Humane Society every year are pit bulls or mixes, and 20 percent of dogs surrendered by their owners are pit bulls or mixes. Save-a-Bull was inspired by a group of volunteers and community members who are passionate about the breed and have a desire to change the many misconceptions about them. MHHS also provides a spay/neuter program, humane education, shelter tours, and more – plus, of course, animal adoption.

(Continued on Next Page)
Prev Next
Vote on this Story by clicking on the Icon