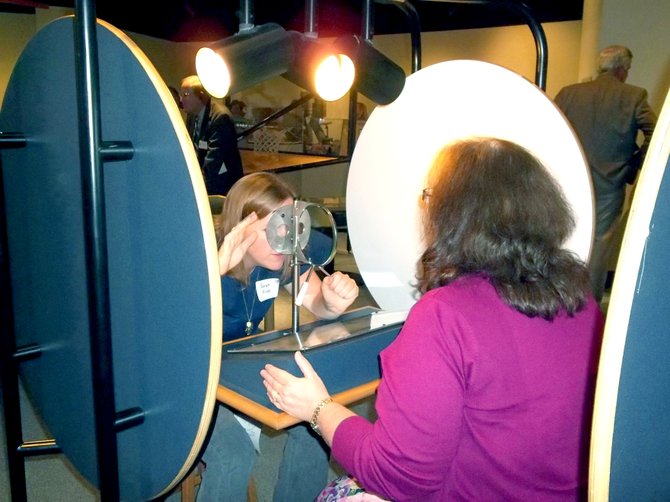 When the Schenectady Museum decided to change its name and mission, rebranding itself as a regional science center called miSci, a key part of the plan was to increase the number of interactive exhibits.
MiSci staffers talked to industry experts about how to enhance their hands-on offerings, and they heard the same thing over and over: Hook up with the folks at San Francisco's Exploratorium, home to more than 450 participatory exhibits.
IF YOU GO
MiSci is at 15 Nott Terrace Heights in Schenectady. Admission is $9.50, $8 for seniors 65 and older and $6.50 for children 3 to 12. Saturdays in October are GE Kids in Free Days, meaning kids 12 and under get in free when they're accompanied by a paying adult, courtesy of GE.
So miSci and the Exploratorium struck a five-year deal calling for miSci to display exhibits from the Exploratorium. The first one, "Seeing," opened Saturday, Oct. 6, in Schenectady and is already getting high marks from visitors, said miSci Director of Archives and Collections Chris Hunter.
"We'd gotten a lot of requests for hands-on activities," he said. "This is kind of a level of interactivity that the area hasn't seen before."
Indeed, on a recent afternoon, visitors were gamely shooting basketballs, trying on goggles and carefully studying images as they enjoyed "Seeing," which focuses on visual perception. The basketballs were part of an exhibit called "Hoop Nightmares" in which visitors shoot two basketballs at a hoop. They then don a pair of goggles outfitted with prisms that make the basket appear off center. They shoot while wearing the glasses, often missing.
But then, "you sort of learn to correct," Hunter said. That happens after about 15 shots.
Take the goggles off, and you'll probably still shoot to the side.
"Your eyes and brain haven't quite corrected yet," Hunter said.
(Continued on Next Page)
Prev Next
Vote on this Story by clicking on the Icon