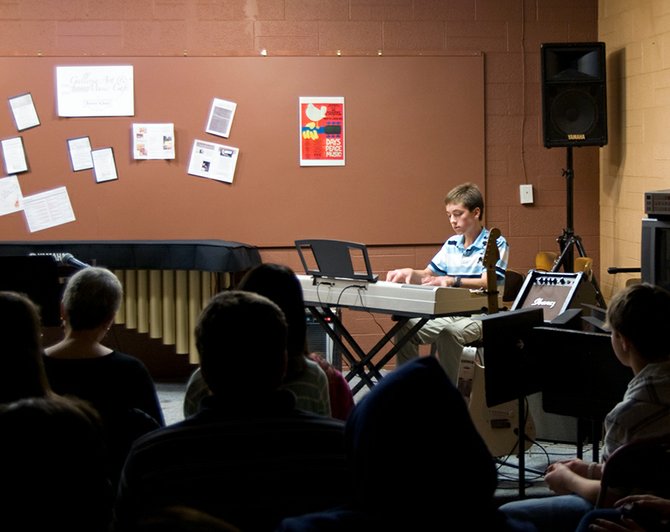 SCHENECTADY — A performance at a café on a Friday night isn't an uncommon experience, but a primary school isn't typically where the nightlife is found.
Lights were dim and the coffee was hot as family and friends gathered at Brown School in Schenectady on Friday, Oct. 12, for an open mic night featuring musical performances from students, alumni and the community. The event marked the first official open mic after an earlier test run at the school's new Galleria Art & Music Café. The space has served as the music instruction room, but modest renovations transformed it into a new venue.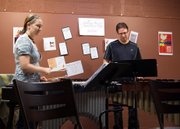 Mary Salvatore, a Schenectady resident and music teacher at the private school, launched the idea to create a music café to offer a new musical learning experience. More than a decade ago, Salvatore started the school's guitar program and thought the café would be the next step for the growing program. Every student takes guitar lessons with her in fourth and fifth grade, with the option to continue their study.
There was an array of musical styles performed Friday by a host of performers, ranging from budding young musicians to college students. Not just guitarists graced the open mic, as performers arrived with violins, ukulele, vibraphone, marimba, piano and their own vocals in tow.
William Smith played a rendition of "Smells Like Teen Spirit" on piano. Mitchell Rigley played Green Day's "Good Riddance" on guitar. There were more classical songs, too, such as Albert Qi playing "Gavotte" by Georg Philipp Telemann.
Rigley attended Brown, but is in middle school now at the The Doane Stuart School in Rensselaer. Getting the chance to perform in front of former classmates was a welcome experience for him.
"It is really cool, because it gets a bunch of young people to actually be able to perform in front of crowds," Rigley said. "A bunch of my friends still go here and it is really cool to see them, because I don't get to see them a lot."
(Continued on Next Page)
Prev Next
Vote on this Story by clicking on the Icon