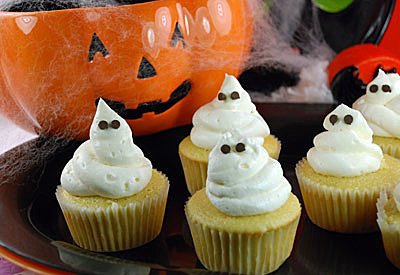 My kids, like millions of others, love cupcakes. However, two out of three of them don't like frosting, and that has forced me to get a little bit creative. I am always trying to find alternative toppings and fillings to share.
With Halloween just around the corner, I'm pulling out all the recipes and making plans. Here is one Halloween treat that is a big hit in my house. In fact, as soon as these cupcakes have been made, they start doing a disappearing act courtesy of the four "ghosts" in my house who sneak around and gobble them up! My friend has dubbed these Booo-tiful Cupcakes.
I am hoping you and your family have a Howling Halloween, and I invite you to join me over at www.jodiefitz.com, where I will be sharing all kinds of crazy Halloween fun throughout the month of October.
Ghost Popping Cupcakes
• Cupcake recipe
1 white cake mix
1 cup white chocolate morsels
¼ cup all purpose flour
Cupcake liners
Preheat the oven to 350 degrees.
Mix the cake mix as directed on the box using water, eggs and oil. Add in the additional ¼ cup of flour. Stir in the white chocolate morsels. Equally divide the batter among 24 lined cupcake tins. Bake as directed on the package for approximately 23-25 minutes.
This recipe yields 24 cupcakes.
• Cupcake filling
3 cups low fat milk
3 1-ounce packages of white chocolate pudding
6 ounces light whipped topping
Mix the pudding and milk together until it has thickened. Fold in the whipped topping.
• Assembly
You will need a snap and seal sandwich bag and mini chocolate chips.
Cut a cylinder shape from the top of each cupcake. Fill a snap and seal bag with the cupcake filling and seal the top. Using scissors, clip a corner so that that the filling can be released. Fill each hollowed cupcake with the filling in a circular motion approximately four inches above the cupcake to create a ghost emerging from the cupcake. Add mini chocolate chips, inserting the point first, to create eyes and a mouth.
Keep chilled until served.
You can join Jodie monthly and get more recipes through the online Price Chopper Kids Cooking Club that is free and can be found at www.pricechopper.com under the program sign up section of the site.  Jodie also visits local communities with Price Chopper for fun programs and events.  To learn more about her, visit www.jodiefitz.com.
Vote on this Story by clicking on the Icon
More like this story