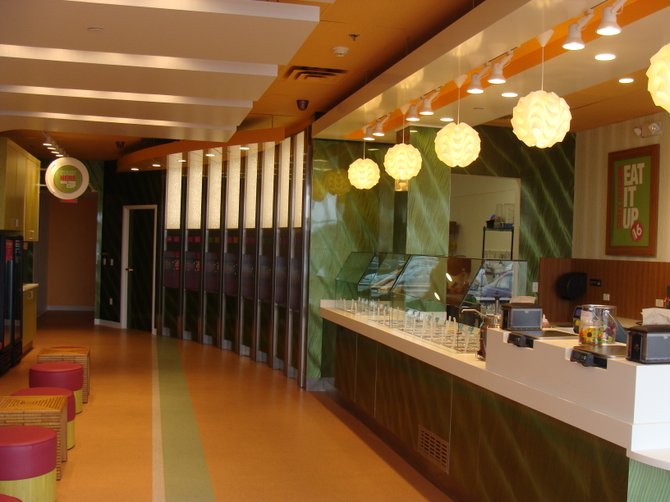 Frozen yogurt faves
In order of preference
Lemondrop, Colonie

Plum Dandy, Saratoga

16 Handles, Clifton Park

TCBY, Latham
It's difficult to drive more than a few miles around the Capital District without passing a frozen yogurt shop. Rather than resist temptation, the Family Chow decided to visit as many of them as we could to find the ultimate fro-yo experience ... tough assignment!
Our first taste of the modern-day frozen yogurt shop was years ago in New York City at Pinkberry, one of the places that started the trend. We love their perfectly tangy yogurt, carefully edited, fresh toppings and bright modern décor. We were clearly not alone when we thought they ought to expand the franchise north. Although we can't count Pinkberry among the local offerings, we are lucky to have at least a half dozen shops to choose from.
We narrowed down our choices to four: Plum Dandy in Saratoga, TCBY in Latham, 16 Handles in Clifton Park and Lemondrop in Colonie. Although we ended up with a favorite, it was a little like picking the cutest puppy from a litter. There were minor differences between shops, but really, what could be bad about an icy treat on a hot day? All four places are self-serve and charge by the ounce (Lemondrop and TCBY are 49 cents per ounce, 16 Handles is 52, and Plum Dandy is 55 cents). We found that with a generous amount of yogurt and reasonable (by parent definition) number of toppings, we usually rang up at close to $5 per serving.
In terms of yogurt, 16 Handles offered the most choices at, no surprise, 16. Lemondrop had 12 flavors; TCBY, 10; and Plum Dandy, 8. While Plum Dandy offered the fewest choices, the flavors rotate frequently and are updated on the company's Facebook page. The standout yogurts for Mom were the white chocolate macadamia at 16 Handles, the Dulce de Leche at Lemondrop and the Ghiardhelli chocolate at Plum Dandy. Both Son and Daughter liked the consistency of the yogurt at Lemondrop along with the ability to twist two different flavors together. Of all the yogurts we tried, there was only one bad review from Son -- the graham cracker yogurt at 16 Handles.
(Continued on Next Page)
Prev Next
Vote on this Story by clicking on the Icon
More like this story