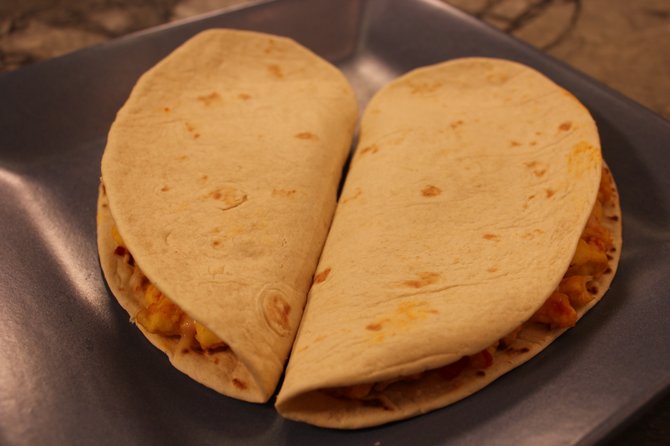 It's back to school and back to busy morning schedules, which I confess always take me a few weeks to settle in to no matter how prepared I think I actually am.

Everyone is up early and on time without much of a problem during the first week back to school, but from week two on, I never know what the morning schedule will look like. Most days, it starts with me rousing sleepyheads who are pining for the lazy mornings of summer vacation. Those mornings are distant memories for me, too, and with the alarm, comes the fast-paced routine of getting ready and squeezing in a quick breakfast before we're all out the door.

Here's a quick breakfast to get your family going in the morning, from our counters to yours. Here's hoping you settle in smoothly to a comfortable back-to-school routine!
Breakfast tacos
1 8-inch tortilla round
2 eggs
2 tablespoons milk
1 tablespoon salsa, mild or medium
2 tablespoons Colby Jack cheese, shredded
non-stick cooking spray
Pre-heat the oven to 375 degrees.
Whip the eggs and milk together in a bowl with a whisk or fork. Cook the eggs in a scrambled fashion over medium heat in a pan that has been coated with the non-stick cooking spray. Stir in the salsa once the eggs are fully cooked and let it warm through. Fold the tortilla round in half and fill with the eggs/salsa mixture. Top the eggs with the shredded cheese. Bake the tortilla for approximately 5-7 minutes (until the wrap is crispy around the edges and the cheese is melted) on a baking sheet that has been coated with the non-stick cooking spray.
This recipe yields one breakfast taco.
Cooking the eggs by microwave: Whip the eggs together. Place them in a butter coated glass dish and microwave on high for one minute. Remove the dish with an oven mitt and stir. Continue to cook the eggs at one-minute intervals, stirring in between, until the eggs are fully cooked.
(Continued on Next Page)
Prev Next
Vote on this Story by clicking on the Icon
More like this story