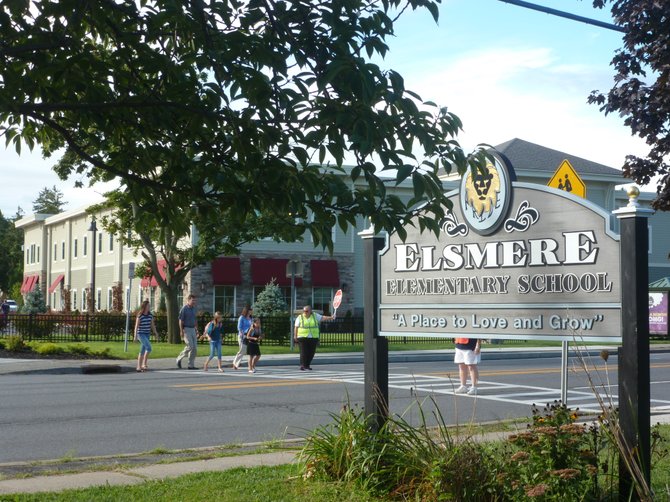 BETHLEHEM — Bethlehem officials recently met with parents and staff of Elsmere Elementary School to discuss how to make the walk to school safer for students.
On Thursday, Jan. 31, Bethlehem Supervisor John Clarkson attended a meeting to discuss possible safety modifications to the crosswalk across Delaware Avenue in front of Elsmere Elementary. He invited Police Chief Louis Corsi, highway staff, members of the town Bicycle and Pedestrian Committee and members of the town's planning department. Also in attendance to speak with parents were school crossing guards Mary Root and Isabel Glastetter, along with Elsmere Principal Kate Kloss.
"Although I'm no traffic expert, from my personal knowledge of this intersection the situation here seems like a real safety issue," said Clarkson.
Root and Glastetter said during the winter months, about 10 students make use of the crosswalk cutting across four lanes of traffic, while about 30 make the walk home. That number dramatically increases during the warmer months. The two crossing guards said the main problem is usually getting drivers to stop or slow down during the morning hours.
"Drivers are oblivious," said Root. "Yesterday, we had a car come up onto the sidewalk and we were almost hit."
Clarkson said some of the stories he's heard are "bloodcurdling."
Throughout the meeting, parents and town staff brainstormed the type of changes they would like to see made to improve safety. Ideas included further reducing the speed limit within the school zone (it stands at 30 mph, down from Delaware Avenue's 40 mph), placing lighted beacons on signs near the crosswalks to increase visibility for drivers and possibly changing where students walk up to the intersection so it is not in the middle of the road.
Delaware Avenue, along with all of the major roads in town, is state owned. Clarkson said for any changes to be made, the town will need to partner with the Department of Transportation to make improvements. He also said there would need to be some work on the part of the Bethlehem Central School District and parents to help advocate for the changes.
(Continued on Next Page)
Prev Next
Vote on this Story by clicking on the Icon