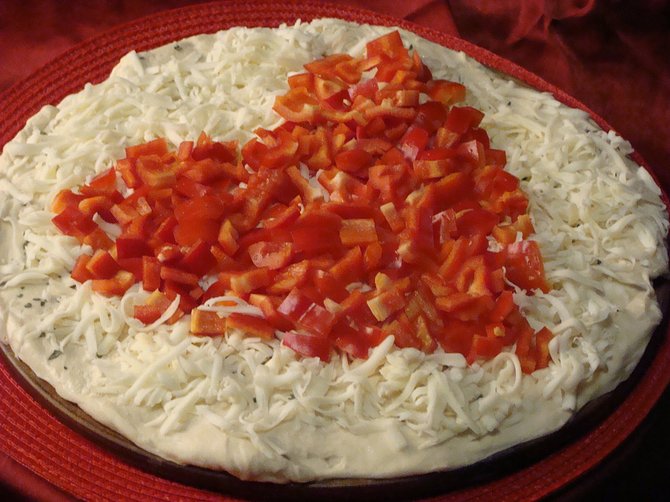 It's always fun to celebrate the holidays with kids, and Valentine's Day is one of those occasions that can inspire all kinds of food fun.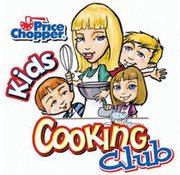 I know many families, including mine, LOVE a good pizza night. It's funny how simple traditions like these can deliver serious excitement and something we all look forward to sharing. (Are we ordering this week? What type are we going to make? What toppings should we get?)This year, our pizza night is moving to Valentine's Day, and, in keeping with the them of the day, I'm sharing a little extra love right on top with crimson veggies arranged in a heart shape. Yes, we're not only eating red, we're styling it to fit in with our seasonal celebration.
Valentine's Day Pizza
1 package of pre-made pizza dough, preferably whole wheat
4 ounces part-skim mozzarella, shredded
1/8 cup plus 2 tablespoons light olive oil
½ clove garlic
2 red bell peppers
Place the 1/8 cup olive oil into a glass dish. Add in the garlic by crushing it. I personally use a garlic press. Stir the olive oil and garlic together and let it set to fuse the flavors.
Pre-heat the oven to 375 degrees.
Rinse, remove the seeds and dice the peppers. Sauté the peppers in the 2 tablespoons of olive oil over low heat until the peppers are lightly softened, but still slightly crisp.
Roll out the pizza dough on a slightly oiled and floured pizza stone. Baste the dough with the olive oil mixture. Top with the 4 ounces of shredded mozzarella cheese. Add in the peppers in the shape of a heart to the center of the pizza.
Bake for approximately 20-25 minutes or until the crust is golden brown on the bottom and the cheese has fully melted on top.
(Continued on Next Page)
Prev Next
Vote on this Story by clicking on the Icon
More like this story