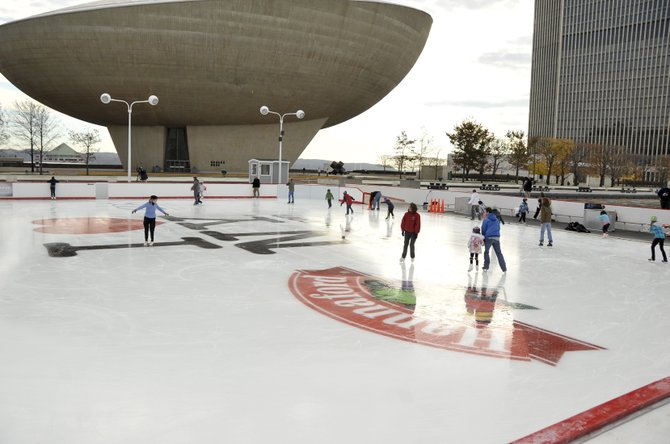 The Empire State Plaza ice skating rink, Albany's version of New York City's Rockefeller Plaza, draws thousands of people each winter for some nostalgic family fun.
IF YOU GO
Empire State Plaza ice skating rink
• Hours: Every day from 11 a.m. to 8 p.m. weather permitting
• Cost to skate: Free
• Skate Rentals: $3 for children under 12, $4 for adults. Free on Fridays.
The rink opened for the season in late November thanks to the help of more than a dozen sponsors from around the Capital District.
Families can enjoy free skate rentals on Friday evenings courtesy of Hannaford Supermarkets.
"We care about the health and wellness of our community, and by sponsoring the rink, we feel this is
a great opportunity for families
to come out," said Hannaford
Supermarkets Community Relations Specialist Molly Tarleton.
Skating lessons will be offered by the Hudson Mohawk Figure Skating Club on the first Saturday of the month through March.
"Staying active in the winter isn't easy," Tarleton said. "For folks to be able to get out and take a couple of laps around with the music playing, the backdrop of the Empire State Plaza, The Egg is right behind you, the Capitol buildings – it's all right there."
The rink offers free skating daily from 11 a.m. to 8 p.m. Skate rentals are available at $3 for children under 12 and $4 for adults. On Fridays, skate rentals are waived. A full-service snack bar is open Friday nights, weekends and school holidays. A skate lounge with lockers for personal items is located at the Plaza level.
Up-to-date information can be found at the Empire State Plaza's Facebook Page, www.facebook.com/EmpireStatePlaza.
Fore more information about skating lessons, visit ogs.ny.gov.
Upcoming Schedule of Events
• Jan. 5, 2 to 4 p.m. – Learn to Skate Clinic
• Feb. 2, 2 to 4 p.m. – Learn to Skate Clinic
• Feb. 8, 6 to 8 p.m. – Mascot Mayhem: Skate with your favorite Capital District characters
• March 2, 2 to 4 p.m. – Learn to Skate Clinic
Vote on this Story by clicking on the Icon