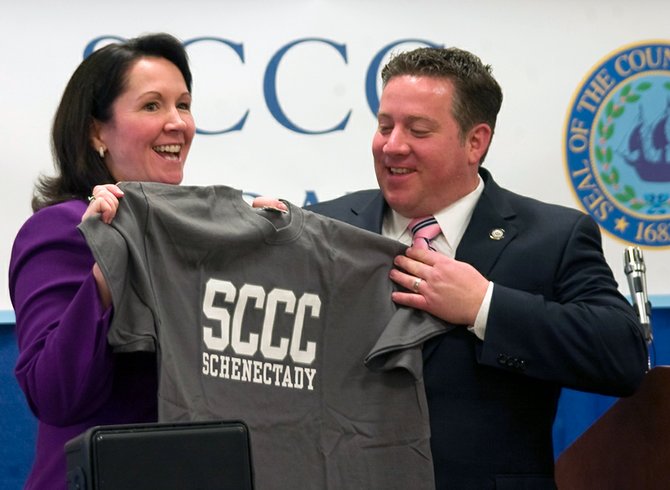 ALBANY — Schenectady County Community College has outgrown its name and is making preparations to establish a satellite campus in downtown Albany.
Three years after discussions began, SCCC announced Friday, Jan. 18, its footprint is expanding into the county's building at 112 State Street in Albany. The college is renovating nearly 10,000 square feet of former Albany County offices on the second floor for classrooms and will lease the space from the county. Around 1,000 students are expected to attend classes there in the fall semester.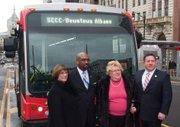 "People are always surprised when they learn that Albany County doesn't have a community college, because there are so many colleges here," said Denise Murphy McGraw, chairwoman of the college's Board of Trustees. "I am so proud and so honored to be here today to be a part of the next chapter of higher education in the Capital Region."
Albany County Executive Dan McCoy touted the partnership as filling an educational void in the county.
"We have all these great universities in Albany County, but we never really addressed the community college," McCoy said. "We are giving an opportunity to the children of Albany County to move to that next level."
Albany Mayor Jerry Jennings said he understands the importance of community colleges firsthand because he couldn't afford to attend a four-year college.
"Anyone that wants to continue their education, they should be able to," Jennings said.
He thanked for Bullock for being "aggressive" in growing the community college and making it available to people outside of Schenectady County. He also thanked McCoy for providing the location.
"This is long overdue and I have got to thank Dan McCoy for making this happen in this building, even though it is not taxable," Jennings said. "Forget the taxes, I see the value of this."
SCCC President Quintin Bullock said renovation costs are still being calculated and the college is working on a lease agreement with the county. College officials didn't provide an estimate for either expense.
(Continued on Next Page)
Prev Next
Vote on this Story by clicking on the Icon