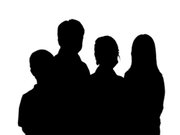 On a recent, rare midweek day off, the Family Chow went with a recommendation from one of our own – Dad – and headed to Sake Japanese Steakhouse in Latham. Dad has been a frequent visitor of the restaurant, which offers a 30-minute guarantee at lunchtime – perfect for a quick business meeting.
Though we didn't need to limit ourselves to 30 minutes, we were pleased to be seated immediately after we arrived. Sake is large, but broken up into a hibachi area, a sushi bar, sake lounge, private dining space and an all-purpose dining room. We opted to save the full hibachi experience for another visit – more fun with a larger group.
We took notice right away of the engaging space, which makes use of glass and wood to great effect. The earth tone color scheme is enhanced by thoughtful lighting, which makes it feel open and intimate at the same time. The pop music playing in the background was just loud enough to entertain.
Sake's menu is a hefty, embossed-leather tome, but we managed to focus our attention on their one page of lunch specials. Although we did not see a kids' menu, there were plenty of "plain" options to satisfy picky eaters. Among the offerings are "Roll Specials," hibachi lunches and some teriyaki, sushi and sashimi specials. We couldn't resist straying a bit to order an appetizer of Gyoza ($6) – one of our favorite Japanese starters.
Sake Japanese Steakhouse
611 Troy Schenectady Road, Albany
• Food – 4 C's (out of 5)
• Service – 4 C's
• Family friendliness – 3.5 C's
All of our lunches included soup and salad that arrived as soon as we had finished our Gyoza. The dumplings were perfectly pan fried with crispy edges and a flavorful, meaty interior.
(Continued on Next Page)
Prev Next
Vote on this Story by clicking on the Icon
More like this story